Sale!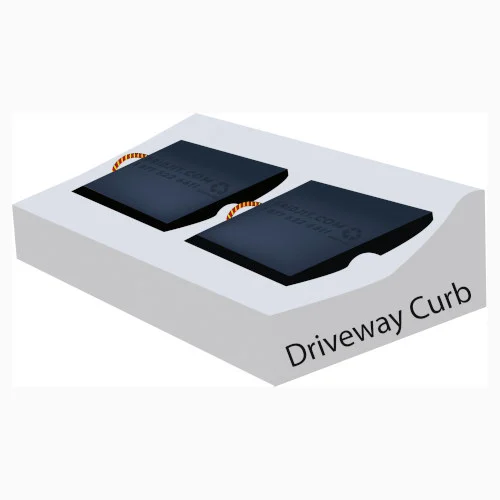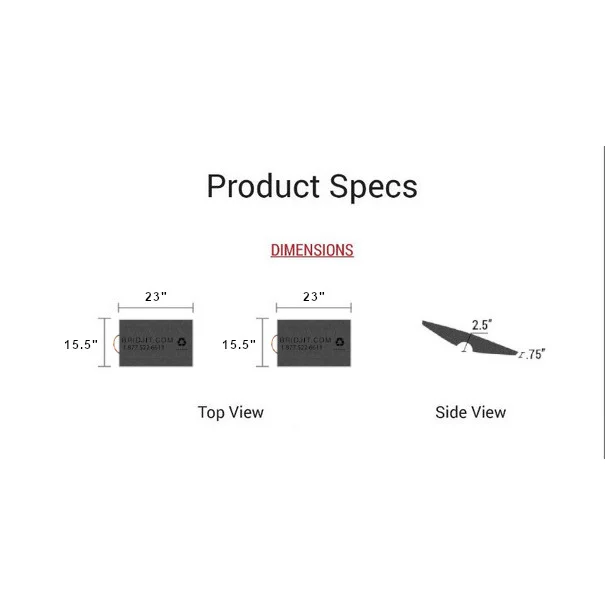 The Portables – Two 23″ Travel-Sized Curb Ramps
The Portables are a travel-sized alternative to our standard curb ramp set. If you need a ramp for your rolled curb, but don't want (or can't have) a full-sized set, The Portables are for you.
Estimated Delivery: Wed, Oct 4th to Fri, Oct 6th
Description
New! Travel-Size Portable BRIDJIT Curb Ramps
Reduce that jarring impact on your car and your neck without having to install a ramp at the end of your rolled curb driveway with The Portables, travel-size curb ramps based on BRIDJIT Curb Ramps. Pick it up easily with the built-in handles and place it where you need it whenever you come across a rolled curb driveway that meets our specifications (see what kinds of curbs our ramps will fit).
Customers of BRIDJIT Curb Ramps report a big improvement in comfort, not to mention reduced wear and tear on their vehicle, and that includes vehicles of all kinds ranging from SUVs to motorcycles, RVs to golf carts…anything with wheels that has to go over that rolled curb. There's no limit to the vehicles a portable BRIDJIT Curb Ramp can support.
No Curb Ramp Installation Necessary!
This sturdy portable curb ramp from BRIDJIT makes it possible to store the two-piece set in your trunk (even the smallest of trunks that you find in many sports cars) or right there in your garage.
Extra sturdy built-in handles make both ramp pieces easy to carry.
Simply place each section at the proper distance apart and drive at them directly and slowly for a smooth ride.
When parked, pick up the ramp sections and store them until next time!
Buy a set of The Portables and keep your neighbors and HOA happy.
Why Do You Need A Portable Curb Ramp?
So you can drive comfortably over rolled curbs – either at home or at your other destinations – that's why. That's the primary reason for a BRIDJIT Curb Ramp anyway.
However, a curb ramp does prevent wear and tear on your vehicle, too. Those rolled curbs at the end of the driveway put pressure on the mechanics and present a particular hazard for low-ground-clearance vehicles like a sports car or other small vehicle, conversion van, and trailer. With a BRIDJIT Curb Ramp you:
Prevent premature steering component damage and make sure your shocks and struts last longer.
Keep your wheels in tip-top shape by preventing misalignment. This ensures a longer tire life. This could save on fuel costs, too.
Don't scrape your undercarriage against the concrete and asphalt! Do this enough and you could even crack a bumper.
An Eco-Conscious Choice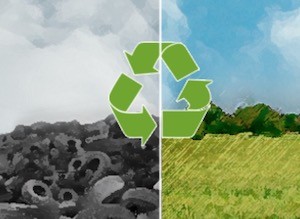 Since the company got its start in 2008, BRIDJIT Curb Ramps have been made in the USA from recycled tires. These new portable curb ramps are no exception. Bridjit is proud to say that we make a substantial dent in the 300 million tires discarded each year in the US. Because we manufacture in the US, we follow a stringent control process for a top-quality product. Sure, there are other curb ramps on the market, but the quality doesn't compare.
Support American jobs. Support the environment with a portable, travel-size BRIDJIT Curb Ramp.
Portable, Travel Size Ramp Specs And Shipping Info
Since BRIDJIT Curb Ramps are made from recycled tires, they are weather-resistant and designed for daily use.
Easily store portable, travel-size BRIDJIT Curb Ramp sections in your trunk or garage to keep your HOA happy. (Some homeowner organizations do not allow for permanent or semi-permanent curb ramps.)
Each individual section weighs approximately 25 pounds and is 23" long, 15.5" wide, and roughly 2.5" tall.
Shipping weight is about 50 lbs per set (25lbs each). Shipping charges are included in the price for customers located in the continental USA. For customers outside the continental USA, please contact us for a shipping quote. Please note that all returns are subject to a restocking fee. See our FAQ page for more information.
Additional information
| | |
| --- | --- |
| Weight | 50 lbs |
| Dimensions | 24 × 17 × 5 in |
Installation
Back the vehicle straight down the driveway until your rear tires are adjacent to the top of the curb.  

Place one ramp section in the gutter behind each rear tire.

Slowly back straight out of the driveway into the street. Check to make sure the ramp sections have not moved before fully entering the street.

If all works well, either mark the outside edge of the ramp at the gutter with a felt pen or drive a long nail at the top of the gutter joint to mark the ramp location for the future. 

To keep your BRIDJIT Portables from walking off, store them in the trunk or garage.

If BRIDJIT Portables don't work the way you like, you may need a second set of Portables so that you can enter the driveway at an angle. This is especially true with Corvettes and other sports cars with an extended front end with air dams.