The 'No Jar To Your Car' rolled curb solution
Will BRIDJIT Fit My Curb?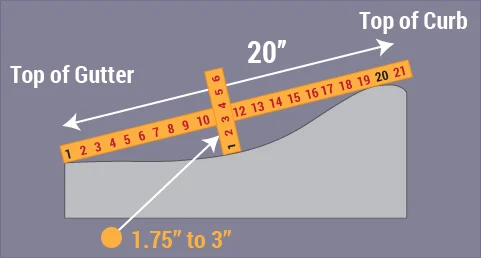 Measure 20" out from top edge of curb out into the street.

Measure from the lowest point of the gutter, perpendicular to the first measurement. This distance should be between: 1.75" TO 3"
DIMENSIONS OF THREE PIECE SET



3 piece set: 12' driveway coverage

Add 4' center sections for wider driveways
The number of 4 ft. sections needed (beyond the initial 3 piece 12 ft. ramp set), depends on the width and depth of your driveway. A 2-car garage with a driveway less than 2 cars deep will require more sections because you have to maneuver your cars from the center of the driveway to both sides of your garage. We recommend a minimum of 4 sections if you have a 2-car garage with less than a 2-car deep driveway or a 3-car garage.

BRIDJIT adjusts to curved driveways
BRIDJIT is manufactured in 4 ft. sections to allow for segmenting around a cul-de-sac or curve. The connection bolts allow the device to make the turn, leaving an acceptable wedge of space between sections as they fit in place.

BRIDJIT comes supplied with 1/2in. x 7 1/2in. galvanized bolts, pre-inserted into the center sections. These bolts need to be driven into the adjoining section (see INSTALLATION). Friction between the rubber and bolts keeps the sections tight together, and the supplied nuts are a failsafe step. No wrenches are needed - the nuts are tightened with your fingers only.

BRIDJIT is made from ground-up recycled rubber tires. A 3pc. 12 ft. set of ramps uses 12 passenger tires.

BRIDJIT curb ramps are black but will weather to a dark gray over time.

Each curb ramp section weighs approximately 50 lbs.
INITIAL SET OF BRIDJIT RAMPS
1 left ramp
1 center ramp
1 right ramp
$419 THE INITIAL SET OF BRIDJIT RAMPS
FREE SHIPPING TO THE LOWER 48 STATES
$419 DELIVERED TO YOUR HOME
ADDITIONAL 4 FT. CENTER RAMP TO INCREASE DRIVEWAY COVERAGE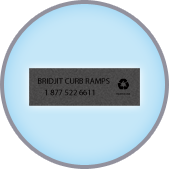 $169 ADDITIONAL 4 FT. RAMPS
FREE SHIPPING TO THE LOWER 48 STATES PER RAMP
$169 DELIVERED TO YOUR HOME
You will receive your tracking number from UPS when your product is shipped.

We accept returns, but there is a 30% restocking fee.