The 'No Jar To Your Car' Rolled Curb Solution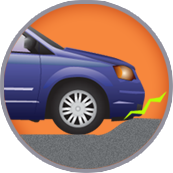 The Problem: Rolled Curb Driveway Entrances
The majority of North American housing developments built after 1980 were completed with less expensive rolled curb driveway entrances. This translates to an estimated nine million homes across the U.S. and Canada that have a rolled curb driveway entrance. The result of this curb design can be a bone jarring shock when cars enter and exit the driveway. This is regulated by the speed in which the vehicle is driven, the weight of the vehicle, wheel base, condition of the suspension, and diameter of the tires.
The Problem: Rolled Curb Driveway Entrances
Misaligned wheels, increased tire wear, and decreased gas mileage.
Higher probability of severe damage to steering components, wheels, exhaust systems, and ground attachments.
A negative impact on all vehicle occupants.
With more of today's vehicles utilizing a lower profile design and reduced impact absorbing low profile tires, rolled curb driveway entries have become a widespread liability.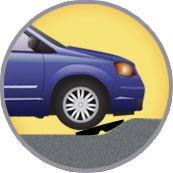 The Solution: BRIDJIT Expandable Curb Ramp System
BRIDJIT is an innovative product that bridges the gap between the street and a rolled curb driveway entry, reducing the "jar to your car".
80% of the normal impact caused by common rollover style driveway entry curbs is eliminated, significantly diminishing impact to your vehicle and occupants.
BRIDJIT assists in maintaining gas mileage and reduces damage done to steering components, alignment, and damage to low profile tires and wheels, reducing maintenance costs and tire wear.
To meet the needs of your driveway, additional four foot long sections can be added to the basic three piece set. This modular design allows the ramp to adjust to curved driveway entrances.
BRIDJIT ramps come with a built in, full length waterway for normal drainage, and angled ends aid in guiding excessive water flow and assists in eliminating debris buildup.
Payback for your investment in BRIDJIT is estimated to as little as one year or less, based on individual driving habits and vehicle durability.
BRIDJIT has sloped ends that ease vehicles up and over when parking parallel to the curb.
BRIDJIT & The Environment


There are at least 375 million scrap tires in stockpiles in the U.S. In addition, approximately 290 million scrap tires were generated this year.

BRIDJIT is the green solution to your curb problem. BRIDJIT ramps are manufactured from crumb rubber sourced from recycled tires.

The average American contributes 4 tires to our landfills every year.

Each BRIDJIT rubber curb ramp set uses 12 passenger tires.
BRIDJIT IS HELPING TO REDUCE THE NUMBER OF SCRAP TIRES, MAKING IT THE GREEN SOLUTION TO YOUR DRIVEWAY DILEMMA.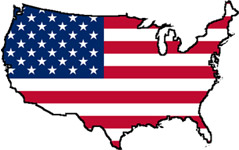 BRIDJIT CURB RAMPS ARE 100% MADE IN THE USA

American-made products create jobs, develop community, and ensure quality working conditions & environmental responsibility.