The 'No Jar to Your Car' Rolled Curb Solution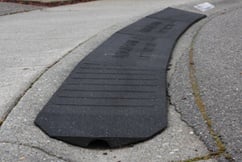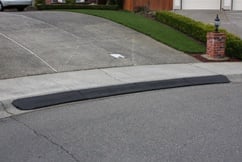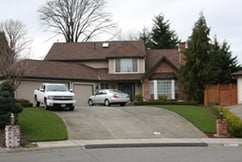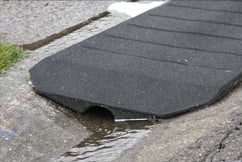 BRIDJIT is an expandable innovative curb ramp system that bridges-the-gap between the street and a rolled curb driveway entry, reducing the impact to your car and occupants by 80%.
BRIDJIT Fits Rolled Curb Driveway Entries
The BRIDJIT Curb Ramp is a 3 piece set designed to fit rolled curb driveways. Because the system is modular - and because additional 4 ft. wide center sections can be added - BRIDJIT ramps can be made to fit straight or curved driveway entries of almost any width.
BRIDJIT Is Easy to Install
Installing your BRIDJIT Ramp Set is an easy, two-person job that takes about 10 minutes. No special tools required!

Rolled curbs can cause damage to steering components and throw vehicles out of alignment. BRIDJIT minimizes this damage, reducing vehicle maintenance costs, decreasing tire wear, and improving gas mileage. BRIDJIT can pay for itself in a year or less.

BRIDJIT Saves Your Car and Your Body
BRIDJIT reduces driver & passenger back pain experienced while bumping over rolled curbs. BRIDJIT protects low profile tires and rims from damage. Vehicles with low ground clearance can now enter your driveway without scrapes and bumps.

BRIDJIT Is Neighborhood Friendly
Ramps have a full length waterway to allow for storm drainage, and sloped ends ease vehicles up and over the ramp when parallel parking. BRIDJIT is easily flipped out of the way for periodic cleaning. BRIDJIT is not impacted by street sweepers.

BRIDJIT is also an excellent solution for golf carts, motorcycles, RVs, boats, and more.

What Some Of Our Customers Are Saying:
THANK THE LORD FOR THESE DRIVEWAY RAMPS!
Karen Burley
Feb 13th 2019
The Bridjit curb ramp was easy to install. It's just what I needed.
candlewick16
Jan 25th 2019
Love it! My car is very low to the ground and would bottom out every time. No more! It's smooth on the way out of the driveway now.
BRIDJIT has now saved my neck and tires!
Laralee Herzog
Dec 1st 2018
This product is great it does exactly what it's supposed to do.i highly recommend this product.
Easy to install! High quality!
Product works great. We have a deep gutter leading to my driveway and sports cars could not get past it. No problem now.
Worth every penny!! No more dragging the front end and smooth in and out of the driveway!
Jay Gottlieb
Oct 3rd 2018
I tore up two front spoilers on my C7 Corvette. Spent $850 on an asphalt ramp, and then spent $650 removing it thanks to my HOA. I found BRIDJIT and the HOA is happy, my C7 is happy and I am happy. Wonderful product!
BRIDJIT solves the problem of the rolled curb!