The 'No Jar to Your Car' Rolled Curb Solution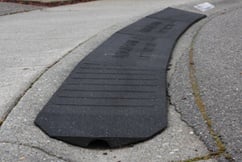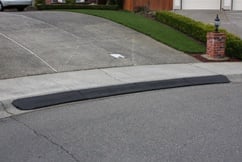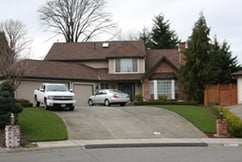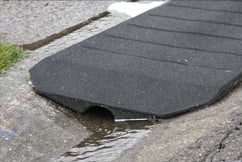 BRIDJIT is an expandable innovative curb ramp system that bridges-the-gap between the street and a rolled curb driveway entry, reducing the impact to your car and occupants by 80%.
BRIDJIT Fits Rolled Curb Driveway Entries
The BRIDJIT Curb Ramp is a 3 piece set designed to fit rolled curb driveways. Because the system is modular - and because additional 4 ft. wide center sections can be added - BRIDJIT ramps can be made to fit straight or curved driveway entries of almost any width.
BRIDJIT Is Easy to Install
Installing your BRIDJIT Ramp Set is an easy, two-person job that takes about 10 minutes. No special tools required!

Rolled curbs can cause damage to steering components and throw vehicles out of alignment. BRIDJIT minimizes this damage, reducing vehicle maintenance costs, decreasing tire wear, and improving gas mileage. BRIDJIT can pay for itself in a year or less.

BRIDJIT Saves Your Car and Your Body
BRIDJIT reduces driver & passenger back pain experienced while bumping over rolled curbs. BRIDJIT protects low profile tires and rims from damage. Vehicles with low ground clearance can now enter your driveway without scrapes and bumps.

BRIDJIT Is Neighborhood Friendly
Ramps have a full length waterway to allow for storm drainage, and sloped ends ease vehicles up and over the ramp when parallel parking. BRIDJIT is easily flipped out of the way for periodic cleaning. BRIDJIT is not impacted by street sweepers.

BRIDJIT is also an excellent solution for golf carts, motorcycles, RVs, boats, and more.

What Some Of Our Customers Are Saying:
Robert Holtz
verified owner
The basic 3 piece package plus one 47 inch extender covers the complete driveway and you can easily enter on a slant angle with the same you would feel headon.
22 hours ago
Robert Holtz
verified owner
Bridgit surpassed all promises and still more. Got my order in two days, in place the third and you can't even feel the curb going over it. Best money I've spend in a long time and totally pleased with it. "GREAT WORK FOLKS".
22 hours ago
Gabe K.
verified owner
This is a very solid product and it does help with driving up a steep incline.
Attaching the large nuts to the attachment bolt very difficult to achieve.One has to use a lot of counter force to lift the the bolt up so the nut has be applied.The screwdriver slips when doing this step.
I think the company needs to make the nut to bolt attachment easier.
1 day ago
Anonymous
verified owner
Anonymous
verified owner
Great product. Shipped very quickly. If you are ordering g this for a Christmas gift just know the packaging does say what it is lol. But great customer service and I would definitely buy from here again.
1 day ago