A Buyer's Guide To Rubber Ramps For Rolled Curb Driveway Entries
Rubber driveway ramps are the latest innovation to hit the market for homeowners with a rolled curb at the end of their driveway.
These ramps serve an important purpose. They bridge the gap between the driveway and the road. This prevents your vehicle from bottoming out and suffering scrapes on its underside.
Why Get A Rubber Ramp?
All driveway ramps are designed to help your vehicle enter and exit your driveway with ease.
Image Credit: CastleDIY
Rubber ramps are the best kind you can buy because:
Compared to asphalt ramps, rubber ramps are more durable and easier to remove when needed.
Compared to concrete ramps, rubber ramps are more car-friendly and easier to install.
Basically, rubber ramps are a huge upgrade from other types of driveway ramps because they're:
Affordable
Durable
Car-friendly
Eco-friendly
Flexible
Easy to install and remove
What To Look For In A Rubber Ramp
Not all rubber curb ramps are created equal, though. So how do you know that you're getting the most bang for your buck? Just look for the six must-have features below. They put a rubber ramp ahead of the others on the market in terms of quality, durability, and reliability.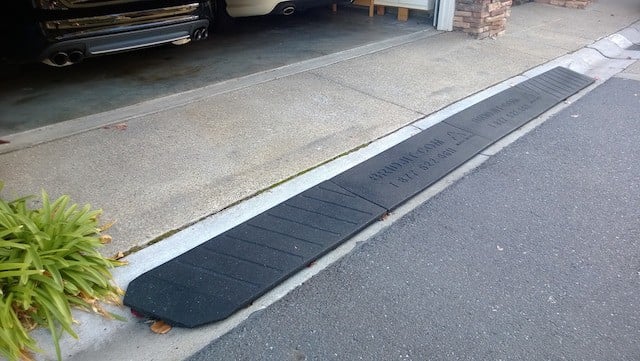 1. Heaviness
It's not uncommon for a driveway ramp to slide, float, or be stolen. That's why you need a ramp that's fairly heavy and designed to be bolted together. Take a look at BRIDJIT curb ramps, for instance. BRIDJIT curb ramps are made of recycled tires, so they're heavy enough to not fly or float away in bad weather. Also, they're pretty hard to steal because not only are they heavy, but they're also bolted together. A thief would need:
KNOW HOW TO TAKE THEM APART
A socket wrench. NO SOCKET WRENCH IS NEEDED TO INSTALL
A lot of strength. PROBABLY TWO PEOPLE DUE TO THE WEIGHT, 153 POUNDS
The willingness to hang around your driveway and risk being caught.
2. A Channel For Water To Flow Underneath
Curbs are specifically designed to help water flow down the road and into a drain. If you have a rubber curb ramp that doesn't come with a water channel, you could get a ticket for obstructing the water flow. You want a ramp with a water channel that's at least 2.5" wide. When bolted together, BRIDJIT curb ramps have that mass of weight that keeps them in place, despite a running gutter of water.
3. Sturdy Yet Mobile
Remaining compliant with your city or HOA requirements isn't a problem when it comes to street sweeping. Sweepers can easily go around the ramps and most often do. If necessary, two people can lift and flip a ramp over onto the driveway, then flip it back. BRIDJIT curb ramps have a flat design, so it's pretty easy to lift it and flip it over onto your driveway if that's ever necessary.
4. Enough Width
Width of coverage is determined by the length of your driveway as well as the opening width. The shorter your driveway from the garage to the street, the more coverage is needed to allow you to maneuver your vehicle to both sides of the driveway or garage.
If your curb ramp is wide enough to fit the full width of the driveway you won't have to position your car exactly to make sure your tires line up with the ramp every time you drive across it.
5. Recycled Materials
BRIDJIT curb ramps are built from recycled materials. Some other ramps are composed of engineered synthetic rubber and molded industrial grade plastics. Ramps sourced from old tires are a better environmental choice.
If the ramps are made from recycled rubber, they're actually helping the environment. They're taking used tires, which are hard to dispose of, and putting them to good use. Each BRIDJIT curb ramp is made of crumb rubber sourced from 12 recycled tires. Read more about how BRIDJIT is helping reduce the number of scrap tires in landfills here.
6. Origin In The USA
With USA-made rubber ramps your purchase helps create and keep jobs for American workers.
All BRIDJIT curb ramps are 100% made in the USA. Learn more about BRIDJIT curb ramps here.