How To Lower Your Driveway Curb
A rolled curb at the end of your driveway is bad news. If you drive your vehicle over it a lot, you may start noticing some problems like:
Messed up alignment
Front bumper skirt damage
Suspension damage
Leaking shocks
If you're here, you might be looking for a way to lower your curb. We can't blame you. Rolled curbs lead to expensive repair bills.
Installing A New Concrete Approach: Is It Worth It?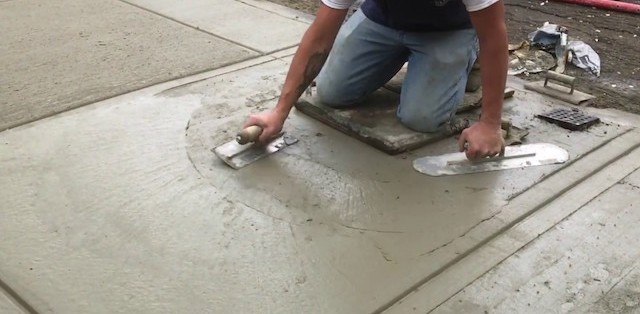 We hate to bear bad news, but the only way to actually lower your curb is to tear it out and then put in a new concrete approach. It's a quite pricey and time-consuming process. The whole project would cost about $3,000 to $5,000 dollars, and you need to get the city's approval first. This post describes the cumbersome process in more detail. Due to right-of-way laws and other state and city rules, the odds are good this project would not be approved.
So it's best to leave your rolled curb alone. Yet, that doesn't mean you have to keep subjecting your vehicle to a rolled curb. A BRIDJIT curb ramp will solve the problem.
A Much Easier And More Affordable Solution: BRIDJIT Curb Ramps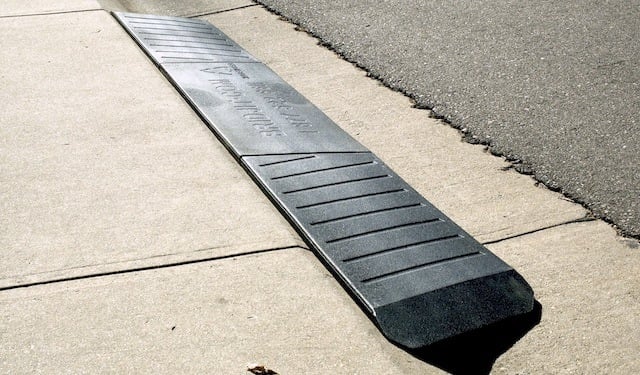 A BRIDJIT curb ramp is the best rolled curb solution money can buy. BRIDJIT curb ramps are sturdy ramps made out of recycled rubber. They're designed to:
Adjust to curved driveways
Curve from the lowest point of the gutter to the top edge of the curb, which creates a smooth transition from the road to the driveway
Allow water to run underneath with a built-in waterway
Stay put for a long period of time
There are other types of curb ramps on the market, but BRIDJIT is by far the best solution.
BRIDJIT Is A Better Solution Than Other Curb Ramps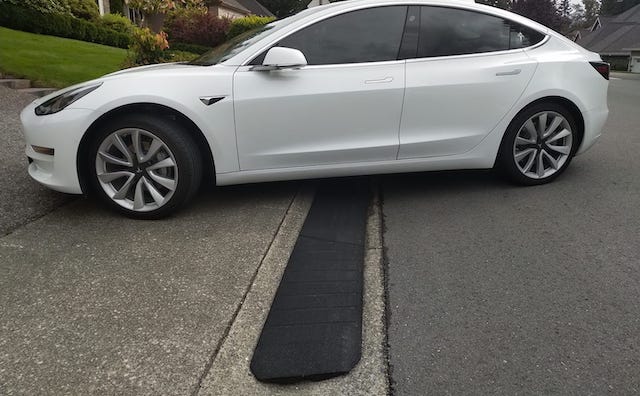 There are other types of curb ramps. For example:
Permanent curb ramps made from:
Wooden curb ramps
Other portable curb ramp brands
Permanent curb ramps aren't a good idea. You would likely get in trouble with the city for installing a permanent curb ramp at the end of your driveway. Permanent curb ramps interfere with:
Water drainage (permanent curb ramps block the water running along the curb)
Any vehicle that drives or parks along your curb, such as mail delivery trucks or snow plow trucks
Also, permanent curb ramps rarely last a long time. So it's not worth going through the trouble of installing one.
Wooden curb ramps may be decent temporary solutions, but they won't last long. If you have a heavy vehicle like an RV, a wooden curb ramp is a no go. It's not strong enough to support the weight.
Out of all the moveable curb ramp brands on the market, BRIDJIT offers the most value. This comparison guide between BRIDJIT and Pyle curb ramps outlines all the reasons why BRIDJIT comes out on top.