BRIDJIT – The Best Driveway Ramp For Lowered Cars
Lowering a car isn't for everyone. Putting a car, truck, or SUV "in the weeds," as they say, is as much a statement as it is a style choice. A person who lowers their vehicle isn't interested in doing things halfway. A person who lowers their vehicle doesn't follow the crowd. A person who lowers their vehicle doesn't spend their days worrying about what might go wrong – they just go.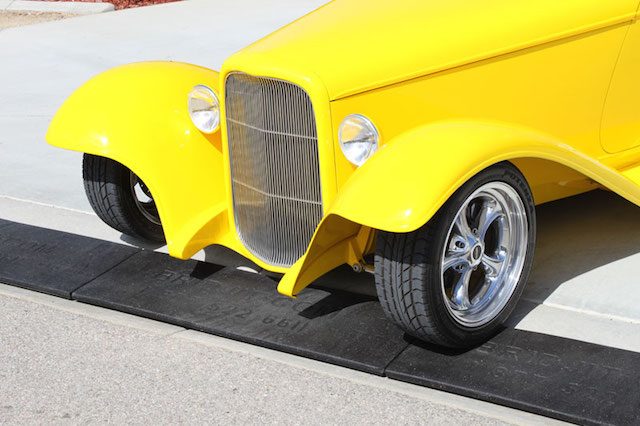 This street rod is rolling right along the ground, and a BRIDJIT curb ramp at the end of the driveway avoids a common problem many lowered vehicle owners face.
Still, no one wants to risk body damage every time they enter or exit their driveway. If you have a lowered car and a rolled curb at the bottom of your driveway, BRIDJIT is your solution.
Lowered Cars Don't Take Any Days Off
Lowered cars don't take any days off, and potential hazards are everywhere. While you can't control some of the bumps and potholes on the street, you can use a BRIDJIT Curb Ramp to smooth out your rolled curb and avoid the daily hassle of coming and going.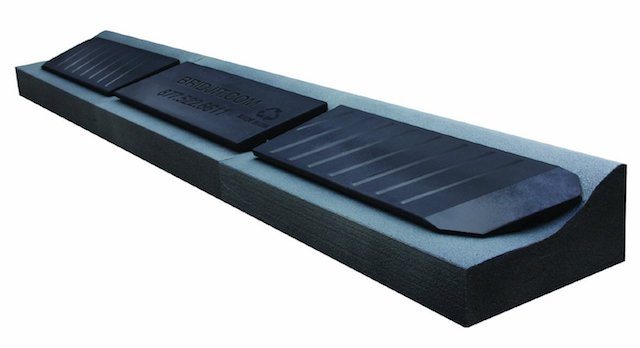 BRIDJIT ramps are designed for 'rolled' curbs, which are surprisingly common across the United States. Rolled curbs are popular with home builders because they reduce the cost of pouring concrete sidewalks and curbs, even if they are loathed by homeowners.
Rolled curbs are a serious problem for people with vehicles that have low ground clearance from the factory (like Corvettes, Porsches, gas-sipping cars like the Prius, compact cars like the Fiat 500), let alone for people who have modified their suspension to get their vehicle a couple inches off the ground.
Why Invest In BRIDJIT?
It'll save you cash. All it takes is one good fender scrape to ring up a body damage bill that would cover the cost of BRIDJIT for you, your neighbors, and your great aunt Millie. Not to mention, the BRIDJIT 3-piece curb ramp set protects reduces the need for wheel alignments.
It's easy. We know the term "literally" is thrown around alot these days, but we LITERALLY mean that BRIDJIT only takes a few minutes to install. The hardest part of the installation is getting the ramp in the perfect position, as each section weighs about 50lbs. Other than that, install is a piece of cake.
BRIDJIT fits most rolled curbs. But if you want to make 100% sure, check out our FAQs. The ramp is composed of three sections, so it can fit around a curve, and it's expandable so it can work for extra-wide driveways.
It's environmentally friendly and made In the USA. BRIDJIT curb ramps are made in the USA from recycled tires. This is a point of pride for us – we're committed to America and its' environment.
It's HOA friendly too. Is your homeowners association infamous? If so, we're pleased to report that we have yet to find an HOE that has rules against adding a curb ramp to your driveway. This is probably because of the ADA (Americans with Disabilities Act), which encourages the use of ramps on curbs.
It saves your back. Jarring bumps jolt your neck and back, and for many people a good bump can lead to discomfort or even pain. BRIDJIT ramps dramatically reduce the impact passengers feel when driving over a rolled curb.
What Are You Waiting For?
If you have a lowered vehicle and a rolled curb at the end of your driveway, BRIDJIT is the best solution on the market. Unlike pouring your own DIY concrete ramp, or making some ramps out of wood, BRIDJIT is durable and dead simple to use. Also, everyone who drives in or out of your driveway will appreciate your BRIDJIT ramps.