3 Ways To Protect Your Assets With BRIDJIT Curb Ramps
Any vehicle is an asset, whether you've purchased it or are leasing it. This applies to:
Cars
Trucks
SUVs
Motorcycles
RVs
Your vehicle is your mode of transportation and, most likely, even more. Vehicles are quite expensive to maintain and repair. Protecting your vehicle will save you a lot of money. You would be:
Maximizing your vehicle's lifespan
Avoiding expensive repairs
There are several different ways to protect your vehicle if you have a rolled curb driveway. Some ways are more effective than others. One of the most effective ways we've seen to protect a vehicle is to install a BRIDJIT curb ramp at the end of a driveway.
Installing A BRIDJIT Curb Ramp Is An Easy Way To Protect Your Vehicle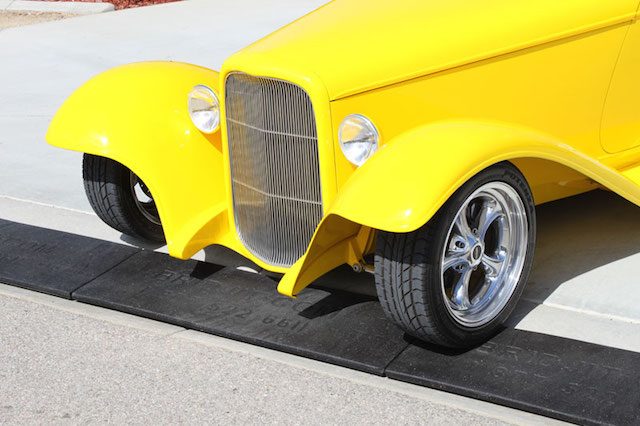 You've probably heard of a rolled curb. If you have one at the end of your driveway, you know how much of a nuisance it is. You have to drive over the rolled curb every time you enter or exit your driveway. That means maneuvering over the curb at an angle and a very slow speed. No matter how careful you are, a rolled curb will increase wear and tear on your vehicle. For instance:
Rolled curbs may damage or prematurely wear out your vehicle's suspension system
Rolled curbs can cause underbody damage
Rolled curbs may mess up your vehicle's alignment
Rolled curbs can cause alignment issues that prematurely wear out your tires
Rolled curbs can cause other types of damage to the underside of your vehicle
All these types of damage can result in very expensive repairs. Luckily, there's an easy and affordable way to prevent your rolled curb from damaging your vehicle. All you need to do is install a BRIDJIT curb ramp at the end of your driveway.
A BRIDJIT curb ramp is an eco-friendly ramp that's made of recycled tires. It effectively serves as a bridge between the road and your driveway. With a BRIDJIT curb ramp at the end of your driveway, you won't have to struggle to get over the rolled curb.
3 Ways A BRIDJIT Curb Ramp Protects Your Vehicle
A BRIDJIT curb ramp doesn't only make it much easier to enter and exit your driveway. It also protects your vehicle in 3 different ways:
1. Minimize Damage To Your Vehicle
A rolled curb is one of your vehicle's biggest enemies. Earlier in this post, we listed many different ways a rolled curb can damage your vehicle. A BRIDJIT curb ramp makes the transition from the road to the driveway (and vice versa) much smoother. It also reduces (or eliminates) the risk of damage to your vehicle's:
Suspension system
Underbody
Tires
Alignment
Front bumper/valance/splitter
Drive shaft
Other parts
In other words, a BRIDJIT curb ramp may save you thousands of dollars in repairs.
2. Reduce Wear And Tear On Your Vehicle's Tires And Suspension
The transition being made smoother by a BRIDJIT curb ramp means you won't feel a bone-jarring shock when you enter or exit your driveway. That bone-jarring impact is the reason your vehicle's tires and suspension system undergo a lot of wear and tear. A BRIDJIT curb ramp gets rid of the impact. That means it reduces wear and tear on your vehicle's tires and suspension system.
3. Reduce Your Vehicle's Gas Consumption
You have to stop, or almost stop, before driving over a rolled curb. You also have to hit the gas to get over the "hurdle". This negatively impacts your vehicle's fuel economy over time. With a BRIDJIT curb ramp, you don't have to stop or hit the gas to enter or exit your driveway. You can just drive in and out like normal.
Getting Your Own BRIDJIT Curb Ramp
BRIDJIT fits any driveway, thanks to our flexible modular design. For an average width two-car garage driveway, we recommend three four-foot sections. For wider driveways, we recommend at least four four-foot sections.
For more information on curb ramp dimensions, go here on the BRIDJIT website. You're more than welcome to contact us if you need help ordering a BRIDJIT curb ramp for your driveway.